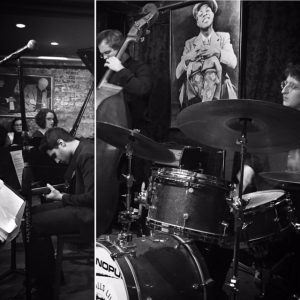 Being in the arts means a life of movement and travel. Whether you're on a 6-month international tour, a weekend run one state over, or a different club in a different part of your home city that's not packed with your friends and family, that movement can be as essential to the music as the notes you play. You can't do your art in your house forever (and you don't want to) so at some point, if you want to grow outside of your comfort zone, you're going to have to see how your artistic self operates in the outside world.
The rules don't change just because you are a married mother in mid-life. Of course, I weigh the opportunities differently than when I was younger because I understand the back-end costs a bit better. But even my family has come to accept my movements,  and if I'm home too many nights in a row, the kids start asking "why don't you have a gig this week??" followed by Frank's well-weathered saw, "You're not picking up any new fans here on Bryan Street, hon."
So when pianist Sarah "The Mighty Meerkat" Slonim asked if I would be interested in doing some gigs at Smalls in New York with her band, it only made sense that the answer would be "yes". I'd met Sarah a few months prior at another gig in New York, and we immediately established a healthy respect for each other's personalities and musicianship. And I had come to embrace doing the Turnpike hustle from Philly thanks to weekly winter gigs in Harlem with The Captain Black Big Band.
I was typing my all-caps super-enthusiastic response of "HELLS TO THE YEAHHH" when another text from Sarah came through.
"It's at 1am, by the way."
Girl, WUT?!
I read it again. And again. I thought maybe she forgot to carry the one, or add a one and subtract 8, or whatever would make that look like an hour in the day that wasn't when most people are dead asleep. I waited for a corrective follow-up text. Nothing.  I showed the text to Frank. He shrugged, and grinned.
"Yeah, hon. That's how it works. It's SMALLS. You gotta do it."
A supportive partner makes a WORLD OF DIFFERENCE when it comes to conquering careers, discovering new planets, and experimenting with untested workout routines. I highly recommend getting yourself one if you can.
I send my response back to Sarah, and my heart flutters a little.
Playing Smalls with the Sarah Slonim Project has been a rewarding experience that continues to inspire me long after I'm back home in Philly. A steady residency makes for better communication between the musicians and better music on the bandstand, and I am so proud of the hard work Sarah and all of us have put into the band. Smalls is a microcosm of my weekly living- I make new friends and reconnect with old ones; have short but intense political conversations and long, drawn-out insubstantial ones; rub elbows with the "stars" I've only ever listened to and try to get away from Mr Grabby who swears he'll get my number one day.  And the music I get to hear in Smalls and all around NYC recharges my battery and reminds me that if such beauty can exist, humans just might survive a little bit longer than their self-destructive ways otherwise indicate.
I am often asked how I make the 1am gig work- folk in Philly can't believe I go to New York so late and don't spend the night, and folk in New York don't believe I come up from Philly and go back without spending the night. Maybe they are all right. It's kinda silly and unbelievable. But ain't' that life, sometimes?  We do the unbelievable so that we keep believing. Make of that what you will.
So without further ado, I present the "How I Do ShoobeeDoobeeDoo."
At 8:15pm, I'm out of the house and driving to 30th Street Station, in search of an available parking spot on Market Street because it's free for 12 hours after 8pm. I'm lucky tonight so I park and get in line for the 9pm Bolt bus. I pray for no stinky food or feet (Vicks or lavender essential oils on cottonballs helps with that) and I spend the next two hours reading, listening to new song ideas. I may catch a bit of shut eye but once the light from the Lincoln Tunnel hits my face, I'm up and in my wallet, searching for my Metrocard.
My mood and cravings dictate how I'll spend the next few hours until the gig: perhaps a few minutes walking about the village, remembering what i forgot from living in New York so many years ago? Maybe a drink and somebody's second set at 55 Bar or Mezzrow? On this particular night, I want a bit of uptown before the downtown so I hop the 1 train to 103rd St to Smoke Jazz to check out my favorite bartender Jenny, who always has a big hug for me. I end up stomping my feet and yelling out "Preach" as I get a master's class in what vocal impresario Marion Cowings is laying down and I think about how I can steal his entire repertoire without it being too obvious.
By 12:15am I'm back on the subway headed to work. There is nothing like descending the too-steep stairs that lead you into that basement world of the magical musical tour known as Smalls. Nick, saxophonist/doorguy/soundman gives me a withering hello, and for the first time, I wonder how many careening people he's actually had to catch at the bottom of those treacherous stairs. I usually try to hear the last 30 minutes of whomever is on before us, out of respect for the music and to get me hype and ready.  This night it's my old friend saxophonist Troy Roberts who is tearing it up with his quartet and, wait-  is that song in 9? No idea how they are keeping it straight and my head is buzzing with awe and geek praise when they finish. Our band pushes forward during the changeover and I hug Troy, dump my bag and, with Nick's help, the stage plot is adjusted.  
At about 1am or so, it's showtime. Sarah and the band open with a jaunty "I'm Getting Sentimental Over You", and I'm sucking on Ricolas, taking in the view: Sarah, petite and formal in dress, belying her powerful command of the keys; Ben, his hair as high-spirited and unpredictable as his paradiddles and snare pops; Adam, in his good leather shoes, hunkered over, bending the strings to his will; and Adrian, slightly professorial and always amused, using the low end to keep everybody on task. I join them after another instrumental, singing to the shifting shapes and silhouettes and in the blink of an eye, it's over.  The jazz jam starts, with Sarah first inviting up the notables and the notorious, before moving to the lesser knowns and novices.  
I push back through the crowd and head over to the bar for a bit of bourbon, and Marjorie the bartender points to an approaching customer and whispers to me,
"Tell him he's got a big head."
Without missing a beat or a sip, I say,
"Hey there, Big Head."
He looks at me, then at Marji and they both crack up. I briefly get lost in the thought that one doesn't have to get a joke to find it funny, then I laugh too. (Would you believe about a month later I see Big Head at a gig at Chris's in Philly, and he asks if I remember him and I say, "Aren't you the guy with the big head?" Still funny.)
I feel a tap on my shoulder and I turn and face a short, young man as wide as he is tall. He's got a subtle rockabilly thing happening, plaid shirt, jeans rolled at the bottom, wallet on a chain, and Bo Diddley specs.
"Hey! I really enjoyed y'all.", he drawls.
"Hey to you! And thanks!"
He tells me he's on an east coast tour with a rock band that played Philly the night before, and he and a friend decided to come up to New York on their day off.
"How does this jam session work exactly?"
I regard him, his kind face, open for whatever and I say,
"What's your name?"
"I'm Sam."
"Where you from, Sam?"
"I'm from Indiana."
"And what's your instrument, Sam from Indiana?"
"Saxophone, ma'am."
He really is the cutest.
"Well, Sam from Indiana, go head and move yourself on up to the front and open your case. And when you hear a song you know, and you're feeling like you want to do something on those changes, take out that sax and do what you do, you feel me?"
"I feel you," he twinkles.
"Oh, and Sam?"
"Yes, ma'am?"
"There's nothing like it," I grin. "Good luck."
Suddenly, it's 3am. I say my goodbyes and as I run up those steep ass stairs and out into the crisp night air, I see Sam from Indiana standing up front, and hear him playing first lines of a night he'll never forget.  I grab a cab to Penn Station and when the driver learns I'm headed back to Philly, he tells me he's been to Philly once, Upper Darby actually, to buy his daughter a car and she's doing really well at Pace University so she deserves it. I tell him I don't doubt she's a smart one, thank him and jog down the escalator at the station, darting through the throng of late-night lovers and talkative homeless, before elbowing my way onto a surprisingly full train.
I jump into the first unoccupied seat, pull out my homemade Sponge Bob travel pillow (Thanks, Auntie Carolyn), set my phone alarm so I don't miss my stop, and close my eyes while reviewing the night's excitement.  By 4:50am, I'm back in Philly, pushing my way past the suited crowd on the platform, up the escalator, and back out onto Market Street. The city is just starting to stir but it's deserted enough to make me sprint to my car with whatever energy I have left. I play Lil' Kim's "Lighters Up" loud and on repeat for the 20 minute drive home and I'm glad to see Frank at the door, drinking coffee by the time I arrive at 5:30am. He kisses me on the forehead, takes my bag and tells me good night and not to worry: he's taken care of the morning routine so there should be no sleep interruptions.
Frank doesn't know that my youngest and I have an agreement- no matter how tired I am, she must give me some of that sweet, sweet shugah before she catches the schoolbus. It's 7:15am when she creeps into my bedroom, lightly kisses my cheek and says "I love you, mama." I grunt my response, but she knows as I do that her kiss could never be an interruption. It's my reward for the hustle.