Philadelphia-based M'Balia is a singer who approaches jazz standards with a "fiercely individualistic style and a generous dollop of gospel grounding", and an "ace" songwriter with a caustic wit and piquant attitude born of lived experience.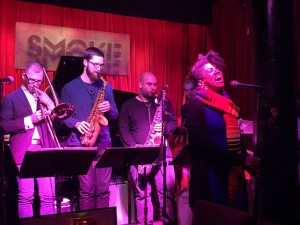 M'Balia Singley grew up in Philadelphia as "the youngest daughter of two hard working Black folk from the South," where piano, voice and guitar lessons were simply facts of life in the Singley household.  She studied history at Yale and law at Temple University, but never completely turned away from music. She sang in rock and a cappella groups by night while studying during the day, writing and performing on the singer-songwriter scene during a brief stint in New York City at places like the Nuyorican Poet Café. She played in wedding and party bands and recorded demos with a pre-fame John Legend – one of which, "Stay With Me," made it onto his debut album and garnered a Grammy nomination.
Jobs and family briefly derailed M'Balia's pursuit of a career in music, but it was also her two children that inspired her to rededicate herself to her first love in recent years. "Telling your children to go after their dreams is a cliché; I thought they should see me going after my dreams. They've seen that it's not easy and there have been sacrifices, but it's been honest. And that's who I want to be."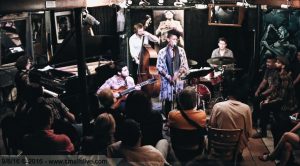 "Honest" is as good a one-word summation as one could come up with for the music on her latest release, Halfway There. Produced by her mentor, pianist Orrin Evans, the album boasts a gritty looseness and a daring spontaneity, with M'Balia's soaring, potent, dauntless voice leading the way. The band features an all-star line-up of Philly stalwarts, including Evans, bassists Mike Boone and Madison Rast, drummers Gene Jackson and Byron Landham, organist Luke Carlos O'Reilly, and guitarist Tim Motzer.
Standards include her stealthy, grooving take on "Softly, As In a Morning Sunrise" and an intimate ballad rendition of "There Is No Greater Love," which is later reprised in a brisk, uptempo version with the full band. M'Balia's originals include the album's title track; "You Don't Need & I Don't Have," a tart commentary on financial hardship; and the stirring gospel-soul song, "Don't Bet Against Me," described in JazzTimes as a "towering self-actualization anthem."
While M'Balia performs in jazz combos, she also continues to perform as a solo singer-guitarist or as a duo with an additional guitarist or drummer.  M'Balia is completing the score for her first children's musical, slated for the 2016-2017 season at the University of California, San Diego.